Welcome to our Trail. There's lots to explore!
Click or tap on the yellow scarecrows to reveal photos. Follow the blue arrows around the village until you've clicked on every yellow scarecrow!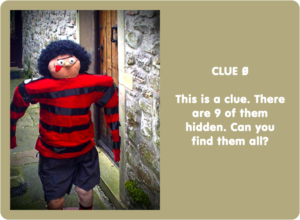 Hidden among the pictures are 9 clues. If you answer all 9 you can enter our competition to win your very own Kettlewell Scarecrow.
You'll need a pencil and paper to keep a note of your answers.
If you're viewing this on a mobile phone, click here to open the Trail in a new tab which may be easier to use – but don't forget to come back here to enter the competition!
The map works just like Google Maps. Drag it around.
Use the and buttons to zoom in or out. If you get lost, just click the home button to get back to the start.
When you click on a pin, it will change colour so you can keep track of where you've been. To clear the visited pins just click the ★ button.
Once you've found all 9 clues – or even if you haven't (there'll be a reminder) – go on to the competition page to enter the prize draw.